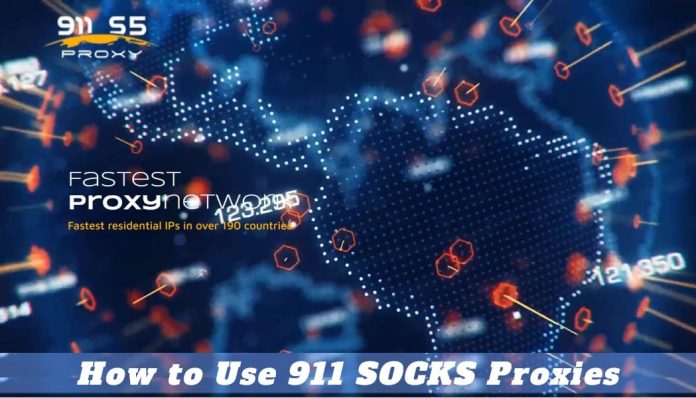 The home page of 911 (911.re) Proxy Service displayed a detailed message from the administrator, revealing details about the security breach.
The 911 proxy service (911.re) was regarded as one the most original residential proxy network and has now announced that it will be closing down after a data breach. This service, which has provided access to many Microsoft Windows computers over the past five years, announced that it had been subject to a data breach.
Incident Details
In July 2022 Brian Krebs, Krebs On Security, had criticized connections 911.re proxy service had dubious pay per-install affiliate programs that bundled its software in pirated software and other free utilities.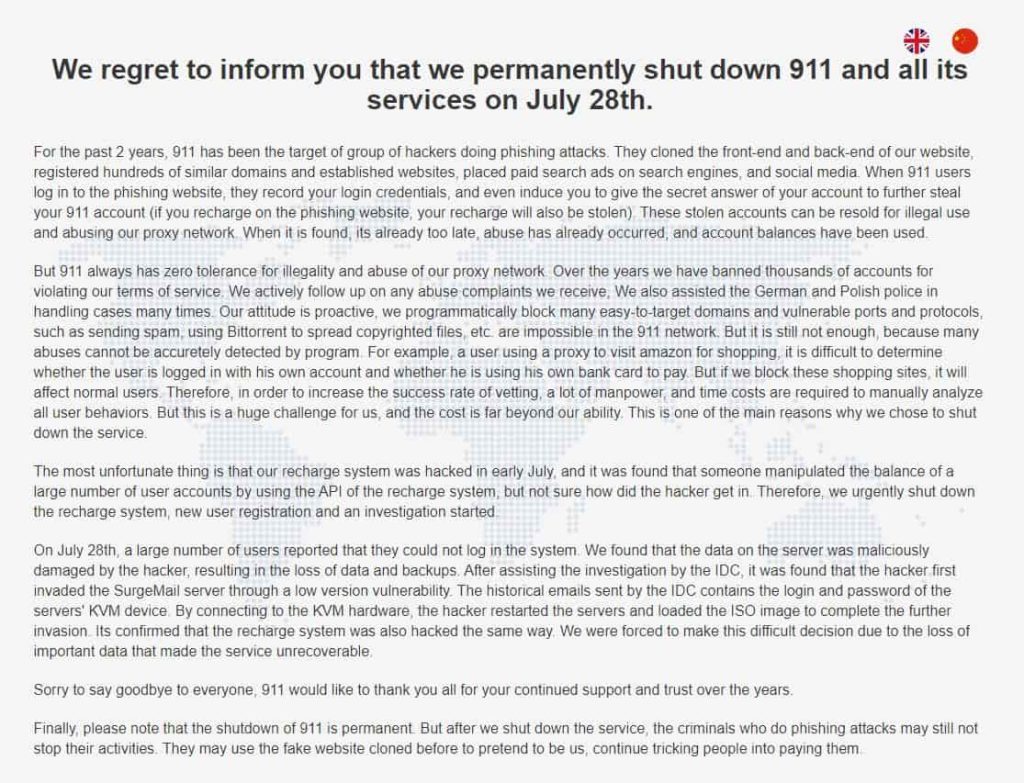 Krebs pointed out that 911.re had multiple pay-per install programs and paid affiliates for software bundles with other programs in order to generate a steady flow of proxies.
911.re informed its users shortly after Krebs' report that it was reviewing its network and would be implementing new security measures to "prevent misuse of its services." They also closed new user registrations, and top-up proxy balances.
The notice stated that "We are reviewing all existing users, to ensure their use is legal and in compliance with our Terms of Service."
Many users complained that they couldn't use the service following the company's public notice. The website announced that its services would be permanently shut down on July 28th.
Did 911.re get hacked?
911.re claims its service was hacked by someone manipulating the accounts of multiple users in July 2022, as shown in the screenshot. This happened through an API (application programming interfacing) that handles account top-ups.
The hacker had "maliciously damaged" the company's server data, which was discovered by the company. It was able to corrupt its data and backups, as well as its servers. The company was unsure how the hackers managed to compromise this system so it decided to immediately shut down its recharge system and create new user registrations.
How do Residential Proxy Services Work?
A residential IP address is rented by users to relay internet communications and protect their identities. They are often unaware that their device can be used as a proxy to allow other users access their internet address.
These proxy services help to build their networks by providing free proxy services or free VPN services powered with software that transforms their computers into traffic relays.
Who Were 911.re's Users?
Similar to other proxy services, their service is used by a large number of people. There are two main users, however: Internet marketers and fraudsters.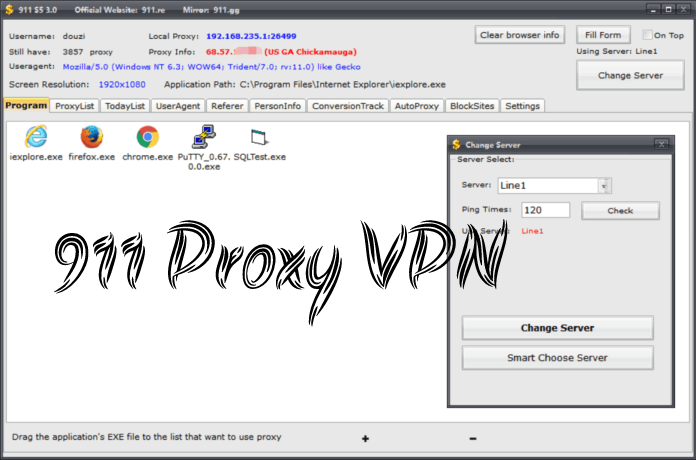 We are an Internet marketer and researcher proxy review blog. While we had great intentions when reviewing 911 S5 Proxy Services on our website, we also gave them an operational perspective review.
Apart from the marketer who uses proxies from legitimate sources, there are many other 911.re users, including carders and scammers. The panic started in fact from the community of scammers when the news broke.
Was 911.re Aiding Fraud?
911.re doesn't do enough due diligence when it comes to who is allowed to use their network. They accept Bitcoin as payment and no KYC. All types of people can access their service. It is clear to see their love for 911.re type of service. Most of the VIP72 and Luxsocks forms customers switched to 911 when Luxsocks closed down.
We can't say 911.re was set up for fraudulent use. But, they have a lot fraudsters using their service and they can't stop them.
What are the best alternatives to 911.re in the market?
If you only need a proxy service that masks your IP, there are many options. These services include Bright Data and Smartproxy. They also offer rotating proxy servers that will not be detected.
You actually get better support for IP rotation, large IP size, and location support than the 911.re service.
It will be difficult to find an alternative if you need any of the unique features 911.re proxy clients offer that are not available through regular proxy services.
Although there may be some on the market, it is possible that they will all close down in the near future.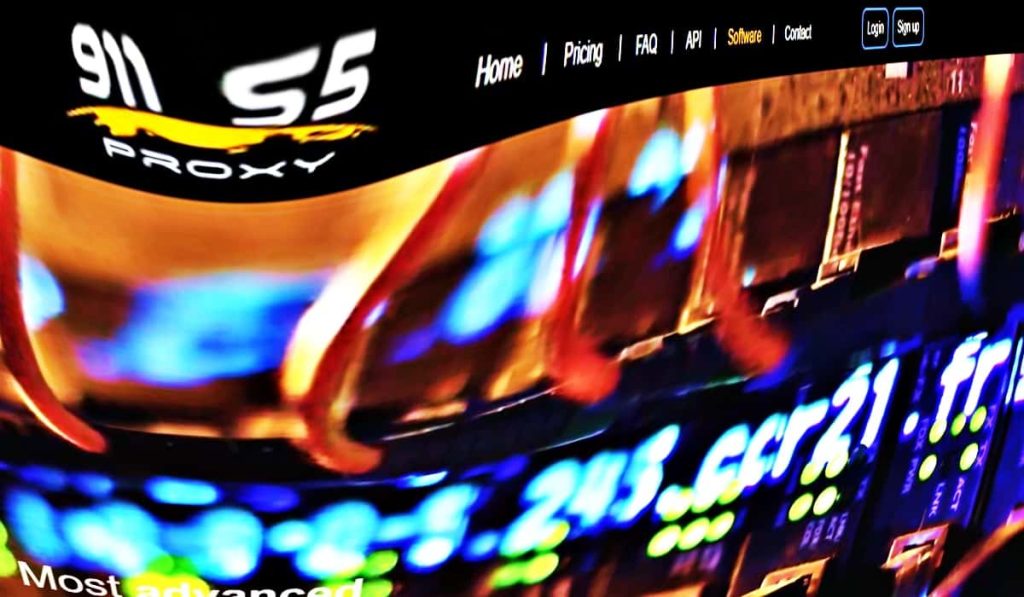 The 911.re service is not the only one to have stopped working. Other proxy providers offering SOCKS5 only with similar services and offers have also stopped operating, including VIP72 and Luxsocks.
Conclusion
The 911.re service has ended for good. It doesn't matter how important they were to your business, it's time to say goodbye to them and find another provider. We don't know what happened, and they didn't even give a reason. They pulled the page down, which could indicate that they were trying to hide their actions.
We can only assume that the P2P network owners cut off with them and withdrew from the P2P network, which led to the shutdown of the service. We may never know the truth, unless they tell us.